Ryan has been a fully qualified and highly regarded
carpenter for seven years, and has specialised in kitchens
for the last two.
He has worked with, and learnt from, many great craftsmen over that time, and has made some great connections in the trade. In 2011, he realised a long-held ambition to become his own boss and start in business for himself. The result is Ideal Kitchen Makeovers – as Ryan explains,
"It was becoming increasingly obvious as the recession went on that many people just couldn't justify having a whole new kitchen installed – lots of people were asking me if it was possible to just replace the doors and drawer fronts. Some people were explaining that they were putting off moving due to the depressed housing market – so they were looking to refresh their existing home instead."
Of course, as Ryan could tell them, the answer is yes, although it sometimes takes some skill and care to attach new doors to old units as the fittings do change from time to time.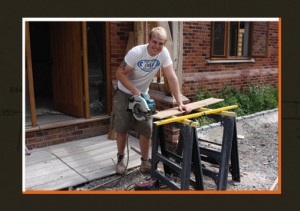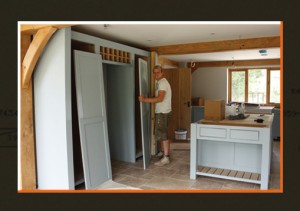 "There seemed to be a demand as people looked to liven up their kitchen without spending a fortune," Ryan continues. "What's more, the refurbishments were so successful, and the clients so happy with the results, that I began to wonder how many people were simply throwing money away on completely new kitchens totally unnecessarily."

Using his contacts in the trade, Ryan realised that he was perfectly placed to offer a complete service – his own carpentry skills could be combined with many of the other tradesmen he knew and trusted, giving home-owners the perfect one-stop solution.
"I have a lot of contacts – subcontrators I can call on for various aspects of the job – I work with a fully qualified and Nappit registered electrician, a qualified, Gas Safe installer, a Corgi registered plumber, plus a really good tiler, painters and decorators – whatever your kitchen needs, I know someone who will do an excellent job, at a great price – and you only have me to deal with rather than sorting it all out yourself!"
If you're looking for someone to give your kitchen a great makeover


at a fraction of the price of a new one, then Ryan is your man.




"I like to work tidily, and I expect anyone I work with on a client's house to do the same – it's especially important if you're working in someone's kitchen, and they are going to continue using it during the job – hygiene is crucial. It's not to say we won't make any mess at all, but what we do make, we'll clear up and make good before we leave for the night."
Ryan is happy to provide references, he really understands how important it is to trust someone who is working in your home. "I've always got on well with pretty much all my clients, and I know they've enjoyed having me around – not something you can say for every tradesperson!"
To arrange a visit, or to discuss any questions or concerns about work in your kitchen, just give Ryan a call – he'll be happy to chat to you about what you want.
Just call:

07834 234538

or use our Contact page form.